Galerija slika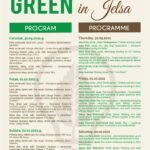 This is the first festival of its kind on Hvar Island, which aims to raise awareness of local people and our guests about vital issues including sustainable development, reducing and putting an end to environmental pollution, and rational, efficient use of the island's natural assets. The festival's varied educational programme is intended for children and adults, with workshops and eco clean-up actions, nordic walking, and plays and films reflecting environmental issues.
A wide range of participants from the local community are due to take part in the Go Green in Jelsa Fest: the Hvar Town and Jelsa high schools; Jelsa's kindergarten; the Jelsa Library and Reading-Room; the Jelsa Caterers' Association; the non-profit associations 'Trim', 'Moj Škoji' ('My Island'), and Eco Hvar; the Croatian Nordic Walking  Association; Jelsa's handball, rowing and football clubs; the Black Pearl and Nautilus diving clubs; the Fjori Fora Garden; Duška Mušić, Lucija Peronja Pavić, Željka Kozulić and Sara Radonić, along with many other individuals, backed by the local council and the waste management company.
The various workshops will be about sustainable development, sustainable waste management, emphasizing the power of cooperation and linking together for the good of the community. Children's workshops will cover felting wool, recycling tyres, recycling paper, making new clothing items out of old t-shirts, making self-filling cat feeders and creating bio-balls for cleansing the sea of harmful micro-organisms.
The charitable association Eco Hvar is leading a project to set up cat feeding stations around the island and improving the care of street cats, at the same time raising awareness of our responsibilities towards the animals who share our environment. This project runs in tandem with the Jelsa Council donating the finance for sterilizing 50 stray cats.
For the third successive year there will be an eco-action to clean up the sea around Jelsa, Vrboska and the south side of Hvar, in collaboration with the 'Nautilus' and 'Black Pearl' Diving Clubs. These actions emphasize the importance of caring for our environment, in the context of ever-increasing rubbish pollution in the sea.
A clean-up operation on land is being organized by Jelsa's Football, Rowing and Handball Clubs, with older children taking part. This ecological activity is also educational, as it teaches the children taking part how to take better care of the sea and natural resources around them in the future. It is vitally important to raise the level of awareness throughout the generations about caring for our environment and protecting our rich natural resources.
Rubbish management is a worldwide problem which needs resolving through a 'bottom-up' approach, by creating workable systems at local level in order to achieve global aims of improvement, especially in relation to marine pollution. Sea and land environments represent a single, unique whole with interlined eco-systems. It is definitely up to every individual to look after the environment, and this project aims to raise awareness of our responsibility.
The Jelsa Kindergarten staff, together with the children and their parents, are launching the project 'Clothes and toys swap', so that unwanted toys and outgrown clothes are passed on rather than being thrown away needlessly. While living without creating rubbish is a Utopian ideal, minor changes like these can bring about change in social habits, especially when children learn about them from the earliest age.
The workshops led by Lucija and Sara are also about re-using materials and giving them new life instead of needlessly buying new things. There are several benefits: children experience the satisfaction of creating new, usable and attractive items from old; some of the expense of buying new items may be spared; and less material is dumped into landfill.
The workshops with the Jelsa Library and Reading Room are designed to show the high school children how to evaluate information on the internet, and how to recognize fake news.
The 'Trim' Association is organizing practical workshops teaching children how to work with wool using dry felting with needles, also creative paper recycling, plus a lecture-demonstration about recycling old car tyres.
Eco Hvar's presentation about cats, under the title 'Cats, our friends' consists of two parts. First there is the story of a street cat, accompanied by a puppet prop dancing to music. This is followed by a demonstration of how to construct a simple automatic cat-feeder for stray cats.
This is the second time Nordic Walking sessions over two days have been held in Jelsa. The aim is to encourage older and younger people alike to take part in an enjoyable outdoor activity. There are four routes through which, led by experienced guides, participants can get to know Hvar Island's culture, its special characteristics, flora and fauna, and the local ways of life. Afterwards the Hvar High School will create a Story Map application on the routes covered in the Nordic Walking outings. The Story Map application will include gps coordinates, written descriptions and photographs. This will round off the project, and will allow people who did not take part in the guided Nordic Walking outings to explore the routes in whole or part themselves.
Apart from the workshops, presentations and ecological activities, the programme includes a showing in the Jelsa summer cinema of the film 'I am Greta', about the famous young activist who has alerted the world to the dangers of climate change and other environmental problems. The humanitarian play 'For Perle' will be staged in Jelsa's Ceremonial Hall (in the Town Hall building), with all proceeds from the entrance tickets going to the children with special needs helped by Hvar's 'Perl' charity.
The 'Perla' charity will also receive the proceeds from the 'Dalmatina' concert on the final evening of the festival, which, with the support of Jelsa's hospitality representatives (restaurateurs and cafe owners), will be held on Jelsa's main square (Pjaca) on Saturday October 2nd.
PROGRAMME:
Thursday, 30.09.2021
Jelsa Park, 10:00: "Jelsa" Kindergarten– 'Clothes and toys swap'
Jelsa Park, 10:00: the "Moj škoj" Association – children's workshop creating bio-balls
Jelsa Town Hall, 11:00: Workshop relating to EU funding measures 6.3.1. i 6.1.1.
Jelsa Park, 16:00: Lucija & Sara – 'A new look for old t-shirts' – workshop for children aged 6 and older, participants should bring old t-shirts with them
Jelsa Library, 17:30: Workshop: 'Evaluating information on the internet'
Jelsa Summer Cinema, 20:00: Film: 'I am Greta"
Friday, 01.10.2021
Jelsa Park, 10:00: "Jelsa" Kindergarten– 'Clothes and toys swap'
Jelsa Harbour, 09:00: Eco action, undersea cleansing in Jelsa and Vrboska
Jelsa Town Hall, 11:00: The 'Sunce' Association – 'Sustainable waste management with examples of good practices from other islands and the mainland.'
Jelsa Park, 16:00: The 'Trim' Association – Workshop including creative paper recycling, dry wool felting, lecture-demonstration on recycling car tyres. The workshop are aimed at pre-school and school-age children, and each workshop will last about 1 hour.
Jelsa's New Waterfront, 17:00: Nordic Walking and walk round Jelsa's historic alleyways. (Please register at the Jelsa Tourist Board Office)
Jelsa Council's Ceremonial Hall, 20:00: Play / stand-up comedy for the "Za Perle" Association, with Duška Mušić
Saturday, 02.10.2021
Jelsa Car Park, 08:00: Eco action – environmental clean-up on land (led by the Jelsa Football, Rowing and Handball Clubs)
Jelsa Harbour, 09:00: Eco action, undersea cleansing in Jelsa and Vrboska
Jelsa's New Waterfront, 10:00: Nordic Walking and walk round Jelsa's historic alleyways. (Please register at the Jelsa Tourist Board Office)
Jelsa Park: 16:00: Presentation for children, 'Cats, Our Friends' ('Mace naši prijatelji')
Jelsa, 18:00: About the power of cooperation: 'Getting together to serve sustainability' – Fjori Fora Garden
Jelsa Council's Ceremonial Hall, 19:30: Exhibition: 'The migrations of Hvar's population over the past centuries'
Jelsa Main Square (Pjaca), 21:00: 'Dalmatino' concert
Event details
30.09.2021. – 02.10.2021.